Super Smash Bros. Ultimate – Fighters Pass vol. 2
£23.20
Earn 9.28 Reward Points
| | |
| --- | --- |
| Region | |
| Platform | |
| Genre | |
| Format | |
| Activation | |
Smash Ultimate Fighter Pass DLCs
There are also DLCs which adds some new content to the base game. The Fighter Passes are special bundles, which includes a number of Challenger Packs, meaning additional fighters together with their unique stages and music tracks.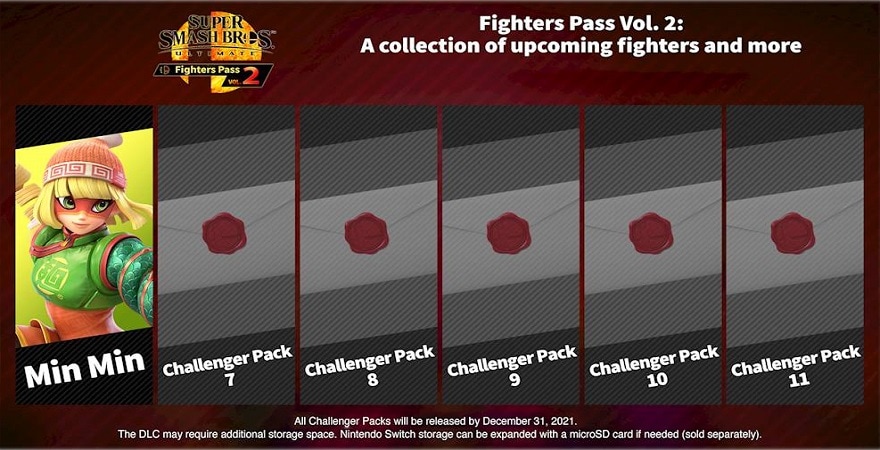 The best reception in the series
Super Smash Bros. Ultimate has been praised regarding a lot of aspect, ranging from the improved gameplay and the much bigger roster of the playable characters, to the number and the design of the available stages as well as even the in-game music. It has been called the best Super Smash Bros. in the whole series and noted for combining the best elements of its predecessors.
Fighters Pass Vol. 2
This downloadable content is the second Fighters Pass in the game. What this DLC includes is as follows:
Six additional playable fighters,
Additional stages,
Additional music as they get released.
Moreover, the buyers will also get a bonus Mii Swordfighter outfit from The Legend of Zelda: Breath of the Wild.
Features
Play the fullest and the most "complete" instalment in the Smash Bros. series.
Enjoy the roster of more than 80 characters, and expand it even further with the DLCs available.
Purchase Fighters Pack Vol. 2 and add new content to your base game, including more characters, stages, and music.
Redeem the unique Swordfighter outfit for Mii – right from The Legend of Zelda: Breath of the Wild.