Playstation Plus 90 Days PSN NORTH AMERICA
£22.32
Earn 8.93 Reward Points
| | |
| --- | --- |
| Activation | |
| Platform | |
| Format | |
| Region | |
PS Plus is your gateway to the world of online entertainment. With PlayStation Plus 90 Days Card you'll be able to enjoy all that the service has to offer. Plus combines the features of a social platform and an online store, with exclusive content and attractive member discounts.  With PlayStation Plus you can enjoy playing with your friends or meet new ones, try out products unavailable to others and purchase content at a lower price or grab it for free. For 90 days, the gates to the world of Sony entertainment will be open to you. Just imagine the possibilities.
Meet people from around the world
PlayStation Plus is something more than an upgraded version of Sony's online store. It's a robust social media platform, where players from around the world can come together and share in their passions. Be it gaming, movies, TV or other media, you can always count on the fact that a new friend is never far away with a subscription.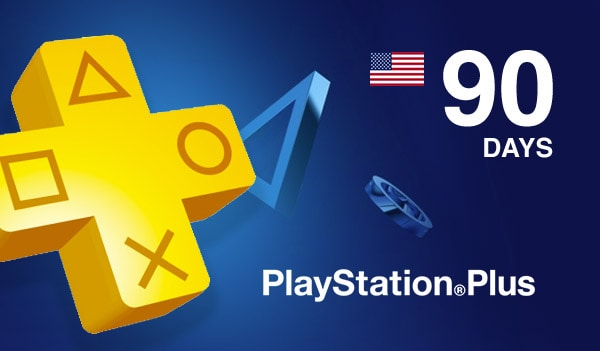 Play online
When you already have your crew together, its time to hit the games. PlayStation Plus opens the world of online gaming to the players. Thanks to subscription, you can enjoy the multiplayer modes of many games, such as popular FIFA 19, Call of Duty: Black-Ops IV or Fortnite. With PlayStation Plus, your gaming days will never be boring, because what's more exciting than facing your friend in the Champions League finals or taking out the entire enemy team with your best bud at your side.
Subscription-only content
Social media, online modes, that's all nice and fun. But let's talk about what really makes the gamers tick – free content! Members of PS Plus will gain access to free content which includes exclusive in-in game content and two games for free! Yes, you read that right. Each month PlayStation Plus will offer its subscribers two games, entirely for free. These can be anything from the PlayStation catalog, from cult classics to more recent releases. Enjoy all that gaming world has to offer completely free-of-charge.
PS Store sales
Missed the game that was free last month? Don't worry! Chances are it's on sale right now. PlayStation Plus offers games at reduced prices, so even if you miss your monthly window you can relax and purchase the game you're after at lower price. Subscribers enjoy sales all year long and if the game is already discounted in the core PS Store, PS Plus subscriber will pay even less than that.  Now, that's a deal worth taking, wouldn't you say?