Star Wars: Squadrons is an FPP flight simulator action game, developed by Motive Studios and published by Electronic Arts. Inspired by the titles from classic X-Wing series, Squadrons puts the player in the jumpsuit of a New Republic and Imperial pilots, fighting in the farthest reaches of the Galaxy. The game features a story mode set after the events of The Return of the Jedi and features brand new locations, as well as some that the fans of the Star Wars saga will recognize immediately.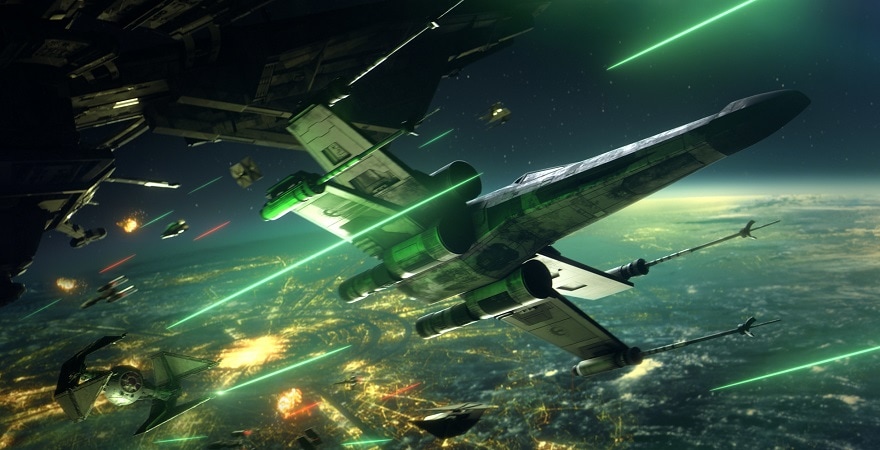 Try out gameplay mechanics inspired by classic Star Wars games
SW: S features gameplay that the players of cult classic X-Wing series will recognize immediately. The game focuses solely on starfighter dogfights between the forces of the New Republic and the dwindling Imperial Navy. The player will be able to play as pilots of the Republic and the Empire, using classic fighters known from the screen.
The game features several solo and multiplayer modes. The single-player Story campaign features events that occurred in the aftermath of the Battle of Endor. Other modes include Dogfights, a 5v5 space skirmishes, the goal of which is to eliminate the enemy team, and Fleet Battles, where the players participate in epic multi-stage encounters, fulfilling various objectives along the way.
Pilot the best ships in the Galaxy
The vessels featured in Star Wars Squadrons are divided into four categories: starfighters, bombers, interceptors, and support vehicles. Each class varies in terms of manoeuvrability, speed, firepower, and armour. Other vital factors are the field of vision from the cockpit and the vessel's silhouette, which determines the best direction to attack the ship. The game features the most famous machines from the Star Wars saga, including X-Wings and TIE Fighters.
Experience a brand new story of the New Republic and the Empire.
A LONG TIME AGO IN A GALAXY FAR, FAR AWAY…
With the death of Emperor Palpatine and the destruction of the second Death Star, the Galactic Empire is in chaos. The forces of the New Republic, established from the Rebel Alliance, scatter their best pilots across the Galaxy to continue the liberation of the worlds still under Imperial control. But the Empire has not said its last word yet. With a fleet of advanced starfighters and elite squadrons of pilots, they will defend their positions to the last man. The Galactic Civil War continues as the brave pilots of X-Wings and TIE Fighters clash among the stars in the furthest reaches of the Galaxy.
Key features
Fly as the pilots of the New Republic or Galactic Empire
Experience the story told from a dual perspective
Take flight in the vessels known from the big screen, including X-Wings and TIE Fighters
Try out the detailed control schemes of each starship model
Participate in various gameplay modes, which can be played solo or in online multiplayer